Being completely free to move as you wish is a priceless experience.
Turbo, a 3-month-old miniature horse, had no idea what that was like until the folks at Road to Refuge Animal Shelter got him a nice new set of wheels.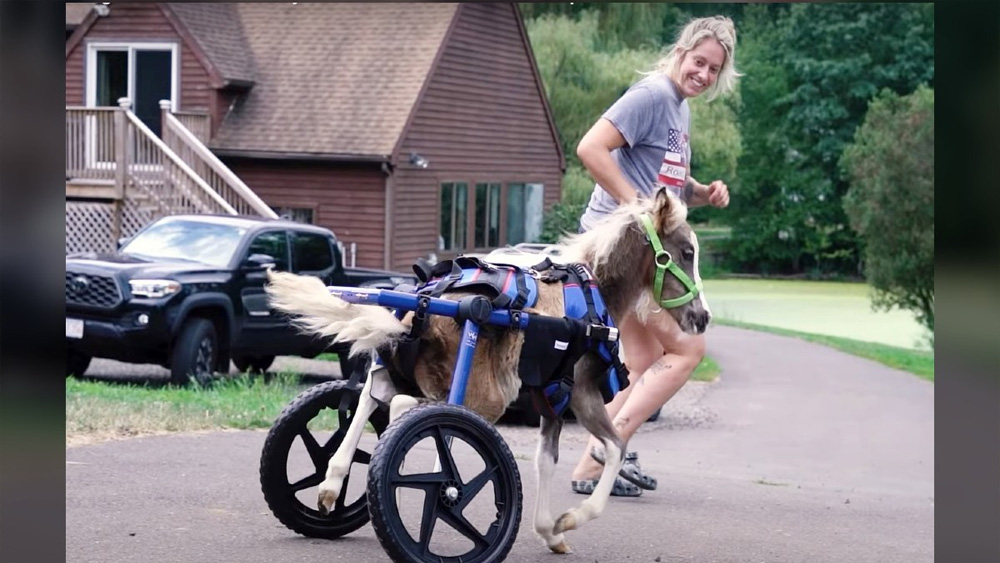 Turbo was born with two luxating patellae, which caused him to have very limited mobility in his back two legs.
This caused the adorable little horse to walk slumped, with all of his weight on his front legs.
Turbo's owners sought assistance from Road to Sanctuary Animal Sanctuary (R2RAS) in North Sanctuary, Connecticut.
Megan Pereira founded the non-profit company after becoming frustrated of witnessing so many farm animals euthanized while working as an animal vet technologist.
Her refuge provides them with a haven to live out their days.
"I prefer situations with unusual requirements, broken cases, and highly clinically intensive patients," Megan told Walkin' Pets.
Megan had assisted a goat named Peaches who used a wheelchair to get around, so she assumed she could help Turbo and took him in.
After hearing Turbo's story, the Walkin' Pets mobility company in New Hampshire decided to gift a wheelchair to him.
Turbo had not even been secured in when he bolted before they had him entirely harnessed into his new wheelchair.
"Seeing Turbo 'move' without any assistance and dragging his legs to being in his cart- I almost burst into tears." I'm not a cryer, but I almost burst out laughing. "He was running and throwing—it was all very intriguing," Megan remarked.
It's impossible not to smile when you see this miniature horse trot along in his wheelchair.
When he's in his wheelchair, he has a whole different personality.
It has a certain happy energy to it. Megan believes that Turbo's story will inspire people to help animals with special needs.
Source: pawmypets.com